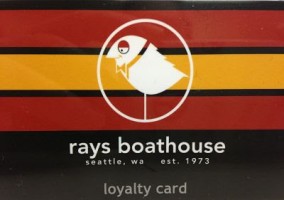 The Ray's Loyalty Card program allows you to earn Dining Credits that you may use to offset your future guest check or redeem for Dining Rewards. Loyalty should be rewarded with more than a discount and we're excited to offer this program to our passionate, caring, and loyal guests!
You will accumulate points for any food or beverage purchase in the Boathouse or Cafe dining room or lounge.
To enroll in the Loyalty Card Program, pick up your card/application at the front desk on your next visit to Ray's – or click here for online application
Loyalty Card Program – How it Works:
Earn 1.5 credits for every $10 you spend.
Once you accumulate 15 credits you may begin redeeming your dining credits on your next visit to offset your guest check in the Café or Boathouse.
The credits are a 1 to 1 credit-to-dollar ratio. Use 1 credit to offset 1 dollar of purchases.
Earn credits for any food and beverage purchases, in the lounge or in the dining room (not valid for takeout food or online orders placed via Toast)
Dining Rewards Details
If you choose to save up your credits you may redeem them for wonderful Ray's experiences:
200 DINING CREDITS You may redeem 200 dining credits for a custom three course dinner for 2 in either the Café or the Boathouse, featuring your choice of local craft beers or wine paired with a menu curated by our culinary team. $250 retail value, 1 weeks' notice required
400 DINING CREDITS You may redeem 400 dining credits for a 5-course custom wine dinner in the Boathouse for 4 people, featuring a menu of wines chosen by our sommelier team, paired with dishes crafted by our Executive Chef. $600 retail value – 1 weeks' notice required
1000 DINING CREDITS You may redeem 1000 dining credits for a 7-course custom wine dinner in the Boathouse for 4 people. This once-in-a-lifetime opportunity will consist of luxurious ingredients sourced by our Executive Chef exclusively for this event, paired with extremely rare and high-end wines hand selected by our wine director. $1500 retail value – 2 weeks' notice required
Reservations for Loyalty Dinners must be made by contacting the restaurant management team at 206-789-3770.
FAQ:
I forgot my card when dining – or I forgot to tell the server that I'm a member. What do I do?
If you paid for your meal using a credit card, that's no problem. Please mail your signed receipt along with your name, phone number and Loyalty Card number to:
Ray's Boathouse
ATTN: Emmett Niland
6049 Seaview Ave NW
Seattle WA 98107
It will take approximately 1 week to credit your account. Your card must be registered in order for us to assist you. Unfortunately we are not able to retroactively accrue Points on checks paid with cash. Remember, if your card is registered you can ask your server to look up your account using your name and they can add the Points before closing your check.
How do I redeem Points/get rewards?
Stop by and visit us, call our Guest Relations Center at 206-789-3770 or email us at rays@rays.com
I've moved, how do I correct my address?
Stop by and visit us, call our Guest Relations Center at 206-789-3770 or email us at rays@rays.com
What do I do if I've lost my card?
Stop by and visit us, call our Guest Relations Center at 206-789-3770 or email us at rays@rays.com
Do my Credits expire?
As long as you have used your card in the last 12 months your credits never expire. Cards that have not been used in the restaurant in the last 12 months expire and are deactivated. (Activity is defined as a purchase in the restaurant)
I redeemed my credits for an on-card dining credit but they didn't appear on my card.
Stop by and visit us, call our Guest Relations Center at 206-789-3770 or email us at reserve@rays.com
Do I earn credits for Catering Events?
Credits are only accrued in the Café and Boathouse restaurants. The Loyalty Program does not pertain to Ray's Catering department. Specifically, events that are coordinated and executed by Ray's Catering Sales Team.
Can I use credits for online food orders?
Credits cannot be used for online food orders placed via the Toast platform.
COMPLETE PROGRAM RULES
Welcome to Ray's Loyalty Card Program designed to reward our guests for their continued patronage. Read the following to learn how to earn and redeem credits, as well as the finer points of the program's membership requirements ("Program Rules").
Ray's Loyalty Card Benefits:
Acquire credits ("credits") redeemable for great rewards. Receive periodic email updates about special events and promotions Ray's will run from time-to-time – many exclusively available to our Loyalty Card Program card holders
Loyalty Card Program Membership Requirements:
Be an individual over the age of 21 who is not a Ray's employee or a member of an employee's household. Register in person by providing required information, including valid email address.
How to become a Ray's Loyalty Card Program Member:
Tell your server that you wish to join. The server will process the membership along with your dining bill and immediately add credits for food and beverage purchased that visit. Be sure to tell your server before you pay your bill. Your server will provide you with a Loyalty Card loaded with credits earned on that visit.
By joining you are agreeing that you have read and accepted these Program Rules as they may be modified from time to time and published at www.rays.com. Each time you participate in the Program in any manner (e.g. earning credits, redeeming credits, accessing our website, etc.) you are agreeing to the updated rules, so please take a look at the updated Program Rules regularly. By registering, you are requesting that Ray's send you information about our special events and promotions via email. You can always unsubscribe to the email notices, but Ray's won't be able to tell you about the program benefits, send reminders about your credits and rewards or provide other important program information. Please be sure to update your email address and personal information with any changes. Otherwise you may miss out on great benefits and other important program information.
How To Monitor Your Loyalty Card:
You can call or visit us to inquire about your credits.
How To Acquire Ray's Loyalty Card Program Credits:
Credits are accumulated after you are assigned a Loyalty Card. There is no limit to the number of credits you can earn or accumulate. Present your Loyalty Card with your payment for food and beverage, and credits earned for that purchase will be added to your account.
Only the Member to whom the Loyalty Card is issued may earn credits. The Member must be paying for the food and beverage to earn credits. The Member name on the Loyalty Card must match the name on any credit card used for payment. Valid identification may be required. Loyalty Cards are issued to individuals only, not businesses or other entities or groups. Reward Points are earned at the rate of 1.5 (one and a half) Points per 10 (ten) dollars spent for food or beverage. Total checks will be rounded up or down to the nearest dollar for the purpose of calculating credits, before tax. Credits are not earned when gift cards, dining cards, or dining credits are redeemed.
How to Redeem Credits:
Your credits can be redeemed for Dining Credit at either restaurant, Ray's Boathouse or Ray's Café. (Dining Credits are not redeemable in our Banquet and Catering Department.) Simply present your card to your server at the time of payment. Be sure to ask your server to apply your Dining Credit to your bill before payment is processed. Dining Credit must be redeemed within one year of the issuance date. 10 Points is required to redeem for Dining Credit.
Memberships and dining credits are personal and non-transferrable. Credits have no cash value and cannot be redeemed for money. A minimum number of credits may be required to redeem your Dining Credit and other rewards. If there is no Account activity (credits earned or redeemed) for any twelve month period, Ray's may cancel the Membership, deactivate the account and void any credits and rewards associated with the account. Upon such cancellation, no benefits associated with the Membership may be utilized. Membership Cards are neither credit cards nor gift cards. No laws, regulations or restrictions that apply to credit cards or gift cards apply to the Program or Membership Cards. Because credits are stored on your Loyalty Card, treat it like cash. If your Loyalty Card is lost or stolen (or your Membership number is known to others), call us immediately. Ray's will attempt to transfer outstanding credits to a new Loyalty Card, but Ray's cannot guarantee a transfer.
Participation in the Program, including the accrual and redemption of credits, is void where prohibited or restricted by law. All federal, state and local tax liabilities associated with the accrual or redemption of credits or otherwise arising out of participation in the Program are the Member's responsibility. Ask your tax advisor for guidance. Ray's may, in its sole discretion, change the Program Rules and/or any other rules governing the Program, including those relating to the accrual, use and benefits of credits, at any time with or without notice. This means, among other things, (1) that the accumulation of credits in connection with purchases at Ray's or otherwise in conjunction with the Program does not entitle you to any vested rights with respect to such credits; (2) any potential benefit or reward offered pursuant to the Program may be withdrawn or subject to new restrictions at any time; (3) Ray's may add or change the selection of available rewards or stop offering any particular reward at any time; (4) any potential benefit or reward offered pursuant to the Program may be withdrawn or subjected to new restrictions at any time; (5) all rewards and other benefits available through redemption of credits or otherwise in connection with the Program are subject to availability; (6) if a reward is unavailable after the reward is ordered in a redemption transaction, your only remedy will be for the appropriate number of credits to be restored to your Account. Ray's reserves the right to terminate the Program at any time. Information about unredeemed credits and other termination processes and rights will be posted on the Ray's website in the event of a termination.
Ray's has the right to monitor all activities relating to your participation in the Program. If required by applicable law, if you violate any of these Program Rules or the terms and conditions of an offer related to the Program or otherwise improperly interfere or tamper with the operation of the Program or if your Account or Card usage shows signs of fraud, abuse or suspicious activity, Ray's may freeze or close your Account, rescind any credits, or take such other action as it deems appropriate. If you have engaged in any fraudulent activity, Ray's reserves the right to take legal action. In addition, you may be liable for monetary losses to Ray's and/or any third party vendors, including litigation costs and damages, and you will not be allowed to participate in the Program in the future.
All decisions regarding the operation of the Program will be made by Ray's in its sole discretion. You are responsible for reading and complying with these Program Rules and the terms and conditions of any offer related to the Program. Ray's may provide additional information concerning the Program, such as FAQs, on the Program website from time to time. All such additional information is provided subject to these Program Rules, and in the event of a conflict these Program Rules will control.
Discounts or offers may be provided to you from time to time in connection with the Program. All discounts or offers will be subject to these Program Rules and may be subject to additional terms and conditions specific to each discount or offer, including expiration dates. The terms and conditions governing third party offers and discounts are solely the responsibility of the third party.
Ray's makes no guarantees, warranties or representations of any kind concerning the Program or any Dining Credit or Promotional Rewards. Ray's will have no liability for any delay in or failure of delivery of goods or services, whether by Ray's or by a third party, relating to your redemption of credits. By participating in the Program, you release Ray's from all claims and liability of any kind regarding the accrual, crediting and/or use of credits, the receipt or use of any Reward, or otherwise arising from or in connection with the Program. Ray's makes no warranty, express or implied, with respect to the rewards or any other benefits, products or services that may be offered through the Program or information provided by third party product and service providers. Ray's has no liability for any products or services provided by third parties, or for any errors or omissions in any materials supplied by the third parties or for any failure by any product or service provider to honor any applicable discount. In no event will Ray's or any third party vendor be liable to you, or anyone claiming through you, for any direct, indirect or consequential damages, or lost revenue or profits, arising out of the acts or omissions of Ray's in connection with the Program. Only the individual in whose name an Account is registered will be entitled to access that Account. However, Ray's complies with court orders and subpoenas and cooperates with investigations by state and federal agencies. If requested by such authorities, your Account information may be shared with others with or without your knowledge or consent.