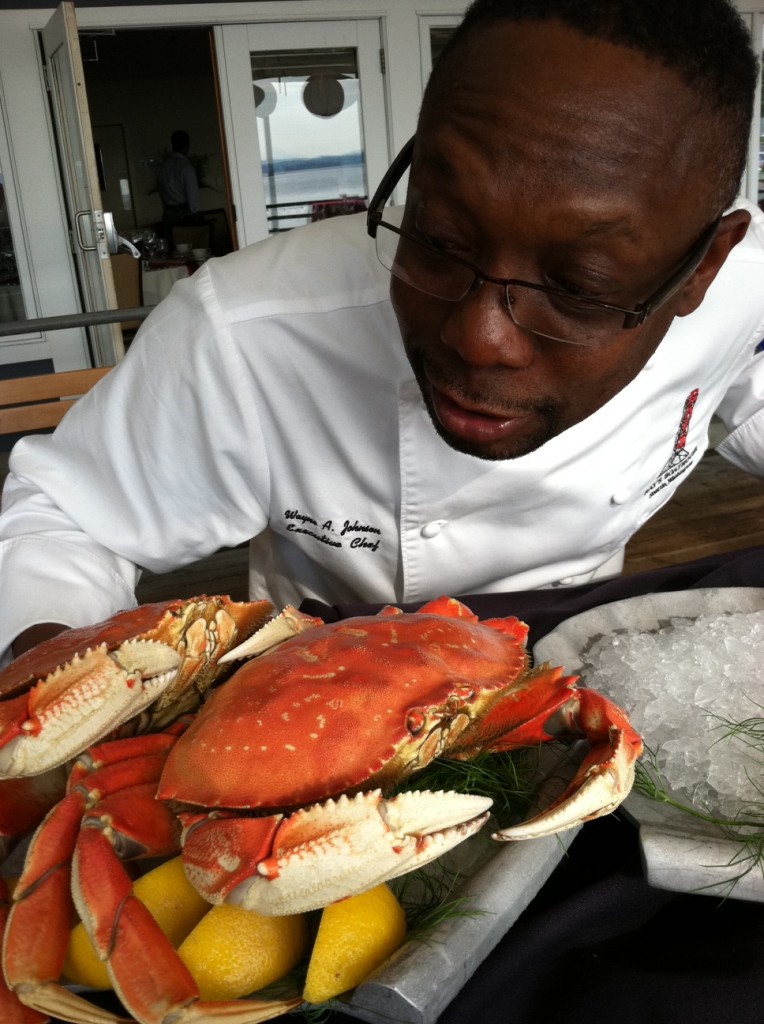 Why are we so crabbing lucky here in the Northwest?? Because we've got the Dungeness crab!
Now there will always be the fight of East Coast blue crabs and West Coast Dungeness, but I like the meaty but delicate flavor of the Dungeness. So, to save on the carbon footprint, let's leave it at this – when on the East Coast, enjoy the blue and when on the West Coast enjoy the Dungeness, and when in the middle of the states, you will have to choose!
The Dungeness season generally will open for commercial fishermen around December and close around August/September.  The season in Puget Sound generally opens in the middle of July, although this year it is opening in early August, at least that is the word I'm getting from one of Ray's local patrons. He said he would be heading down near the Columbia to do some crabbing this Wednesday.  And with the price of Dungeness crabs these days, it may be worth your while to throw a couple crab pots yourself (with chicken backs or salmon heads) and then sit back with a beer and wait for your pot to fill. Be careful not to take more than your limit; we want to make sure we have crab in the future.
Once you have caught them, you'll need to cook them, right?!  If you have a crab weighing about two pounds, it will take about 15-18 minutes in very salty water (if you are cooking them by the Sound, the ocean water is the best). Then, to make Rays Boathouse crab cakes (see recipe) you will want to cool the crabs in ice water. Once they are cool enough to handle, you will need to clean all the meat from the shells; there are a couple of good videos on YouTube that show how to do the cleaning. You should get about 25% of pure crabmeat (so, a 2 pound crab should get you about 1/2 pound of meat). You can also buy crabmeat if you are in a hurry, but it will be a bit more costly and you miss out of the fun of pulling your own crab pot.
I think it's time to head out and do some crabbing!  Some go for the catch, others go for the boat ride and the beers – either way I think you will have a great time!  Happy Crabbin'!!
NOTE: Chef Wayne will be on-stage demonstrating how to make these crab cakes at The Bite of Seattle on Friday, July 19 from 1:00 – 1:45pm.
CRAB CAKES
2 tablespoons butter
2 shallots, very finely minced
2 lemons, zested
2 teaspoons Old Bay Seasoning
1/2 cup dry sherry
2 cups cream
2 lbs Dungeness crab meat
1 tablespoon salt
1/2 cup minced chives
1/2 cup minced chervil or parsley
1 cup panko
Melt the butter and add the shallots and sweat until soft. Add Old Bay and lemon zest and cook for 1 minute. Deglaze with the sherry and reduce until nearly dry. Add the cream and reduce until nape (somewhat thick).  Cool slightly and pour the cream into a mixing bowl along with the remaining ingredients. Gently mix by hand and taste; add extra seasoning as needed.  Shape into small cakes (about 2 inches diameter) and sauté in a small amount of olive oil for 3-4 minutes on each side until golden brown.  Serve hot!