Ray's has had the opportunity to serve some incredible individuals and organizations throughout the years. One of the most memorable was the larger-than-life Julia Child. Yes, the Julia Child. Back in 1990 Ray's Boathouse cooked and served dinner to Julia while on a visit to Seattle.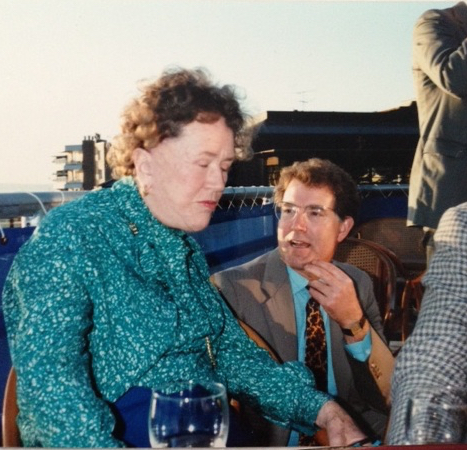 Julia & Russ Wohlers (founding partner) in 1990
Reflecting back on Julia Child's legacy she was truly one-of-a-kind. She was able to bring the art of fine dining to millions of households across the country. Julia made us laugh and take note of her marvelous culinary masterpieces that she served out of her kitchen with such joy.
August 15 will mark Julia's 105th birthday. In honor of this remarkable chef, we will be serving two of her most famous seafood dishes from Friday, August 11 to Sunday, August 13 in our downstairs Boathouse.
Executive Chef Paul Duncan has recreated two of Julia's classic seafood dishes to be prepared and served in exactly the same way as her famous cookbook, Mastering the Art of French Cooking, including:
Bouillabaisse: white fish, salmon, shrimp, clams, and mussels simmered in fennel and saffron infused broth, served with grilled baguette and red pepper rouille $35
Fish Quenelles in white wine and garlic cream. Truffle infused white fish dumplings, fresh herbs, garlic and cream $16
Join us as we celebrate Julia's delicious and profound impact in the culinary world with these delectable dishes. And "bon appetite," as she would say!
Make your Boathouse reservations today before they go! Call 206.789.3770 or click here.