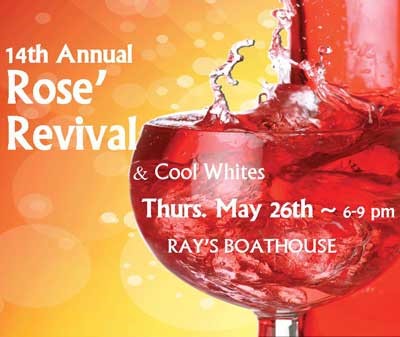 Thurs. May 26th, 2016
Ray's Boathouse
6049 Seaview Ave NW
Seattle, WA
6 – 9 pm ~ $35
*Special VIP early entry at 5 pm for $50

What could be more summer than sipping tasty rose' and white wines on the beautiful deck of at Ray's Boathouse watching the sun set over the Olympic Mountains across Puget Sound?  Be part of this Seattle summer tradition by joining us at the 14th Annual Rose' Revival and Other Cool Whites Wine Event on Thurs. May 26th!
This event features a wide array of dry Rose' and interesting white wines…NO reds! Attendees will meet a variety of Northwest winemakers and taste their Rosé made in very small lots from Sangiovese, Syrah, Cab Franc, Tempranillo, Grenache, Pinot Noir! The event will also feature a wide array of delicious whites for summer, including varietals such as Semillon, Pinot Gris, Viognier, Albarino, Gruner, & Pinot Blanc, as well as wines from Italy, France, Austria, Spain and more!  Ray's Boathouse will provide some tasty noshes to accompany.
~ 30+ Northwest Wineries pouring their latest releases for Summer
~ 5pm Early Entry limited to 50 people
~ Salmon Slider Box provided by Ray's Boathouse
~ Stunning view of the sunset over Puget Sound
~ Wine Store to purchase bottles of your favorites!
Proceeds from this Seattle Uncorked event go to support Save Our Wild Salmon, a nationwide coalition of conservation organizations, commercial and sportsfishing associations, businesses, river groups, and taxpayer advocates working collectively to restore self-sustaining, abundant, and harvestable populations of wild salmon and steelhead to rivers, streams and oceans of the Pacific Salmon states.
New VIP Entrance: Arrive early at 5 p.m. for $50 and taste with the judges 
and media before the crowd arrives (limited availability).
CLICK HERE TO BUY YOUR TICKETS!
Featuring