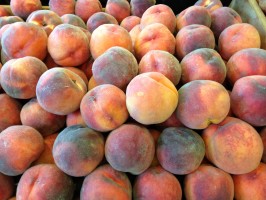 I love summer because of all the local fruit that is in season – cherries, blueberries, strawberries, and apricots. The choices are almost overwhelming! And just as soon as they come into season, they are right back out again, so you need to be ready to take advantage of the bounty!
One of my favorite desserts to make in the summer is a fruit crisp. It's such a simple preparation, it consistently tastes amazing, and it's always a hit! Rarely have I met a person that doesn't enjoy a warm, bubbly fruit crisp with melting vanilla ice cream on top.
What makes a crisp fun for me is the many ways you can jazz it up and be creative. For instance, add cinnamon and ginger to the topping. Or add lemon zest to the blueberry filling. Maybe serve an orange cranberry ice cream with a pear crisp. The possibilities are endless, and you just need to think out of the box. With crisps being so quick and easy to prepare, trying different variations isn't frustrating or exhausting, but instead, it's tons of fun!
Below is the basic crisp topping recipe I use. Don't be afraid to try something new. Trust me, even if it doesn't turn out quite like you wanted, you will not have any trouble finding people to eat the "mess ups!"
BASIC FRUIT CRISP TOPPING
1 cup brown sugar

 1 cup flour

 1/3 cup cold butter, cut into cubes

 Pinch of salt
Combine all ingredients in a bowl. Using your hands, mix together until butter is completely mixed in and forms a crumble.  Sprinkle on top of your favorite fruit filling (find recipes on AllRecipes.com etc) and bake according to recipe directions.
 A few variations you could try:
Add 1/2 cup Quaker Oats and 1 tsp cinnamon
Add 1/2 cup sliced almonds
Omit brown sugar, replace with white sugar, and 1/2 tbsp finely chopped lemon thyme (great with blueberries)
Add 1 tsp cinnamon and 1/4 tsp ginger
Add 1/2 amaretti cookie crumbs