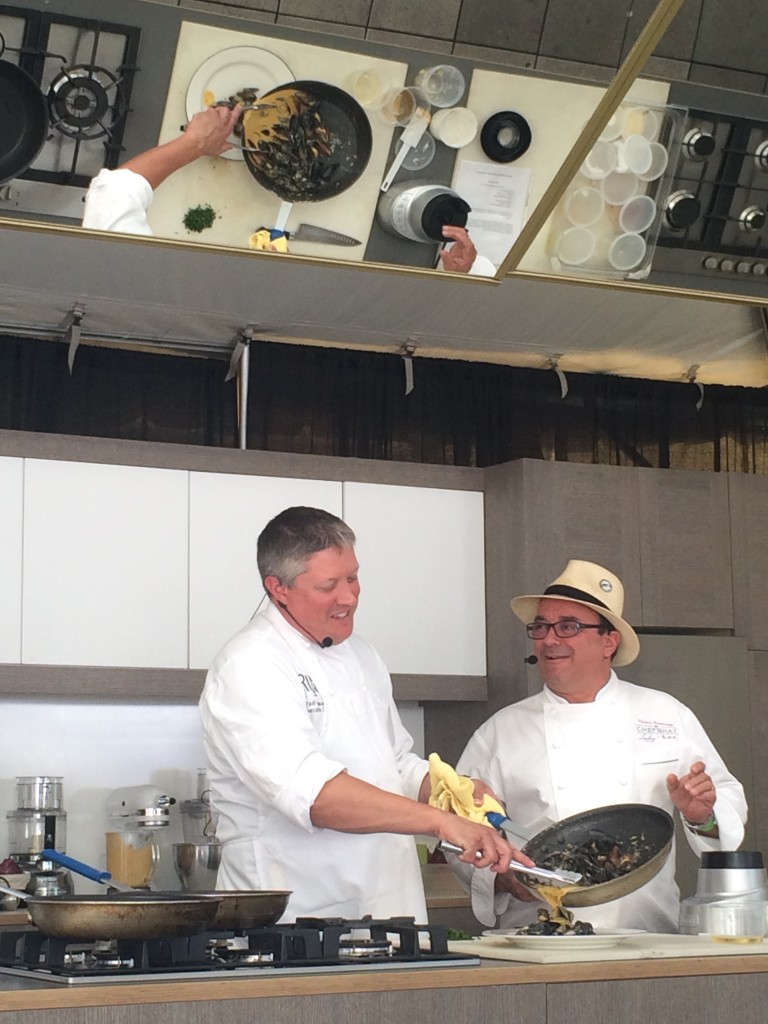 Ray's Executive Chef Paul Duncan and his team had the pleasure of participating in the
Bite of Seattle's Alley
to benefit
Food Lifeline
last weekend. Ray's Boathouse & Cafe helped raise thousands of dollars for Food Lifeline, met some great folks and fed a crowd with our Smoked Salmon Sliders: house-smoked salmon, scallion aioli, red cabbage-citrus slaw on a petite brioche bun.
During the Bite, Chef Paul also took the stage to cook up some of Ray's signature dishes with
The Chef in The Hat
, Thierry Rautureau, at the Bite Cooks stage. Paul shared various techniques for cooking with shellfish, like clams and mussels, from how to clean them, to how to avoid overcooking, to the best flavors to pair with each.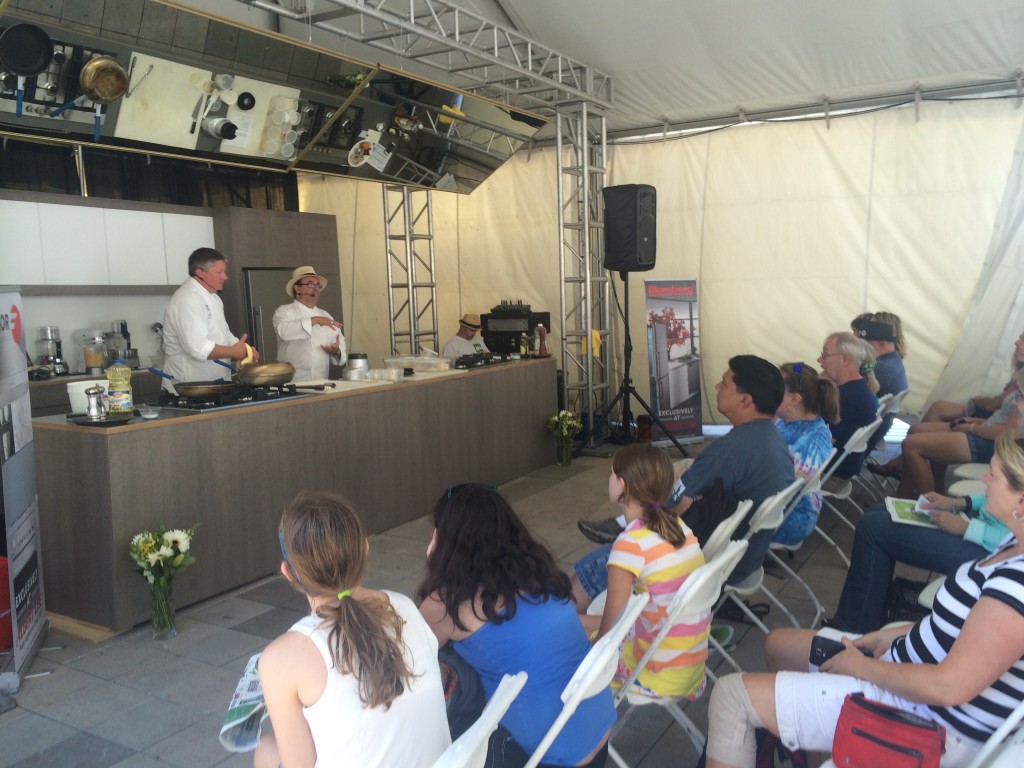 If you missed the demonstration, we have a treat for you! Here are recipes for the two dishes Chef Paul whipped up for the Bite Cooks audience that you can make at home, or visit us to enjoy variations of these dishes any day at
Ray's Café
or
Ray's Boathouse
!
Penn Cove Mussels in Thai Style Coconut Broth
For the Broth
This recipe is for 3lbs of Mussels (de-bearded)
2 cups coconut milk
2 Tablespoons red curry paste
½ Tablespoon chopped garlic
1 Tablespoon fresh chopped ginger
1 cup Sake
1 Tablespoon fresh lime juice
2 Teaspoons fish sauce
1 Tablespoon fresh chopped Thai basil 
1)     Add all ingredients to a standard blender with lid attached and pulse for 1 minute
2)     Once all ingredients are combined place the broth into plastic container with airtight seal.
In a large sauce pan add 2 tablespoons un-salted butter and allow to melt. Once butter has melted add the Mussels and stir to combine. When the mussels begin to "hiss and pop" add the Thai mussel broth, turn heat to medium and cover. The mussels should be fully cooked in 2-3 minutes. Turn off heat and pour mussels and broth into deep serving bowl and serve family style. Garnish with whole Thai basil leaves.
Clams in Sherry Chili Sauce
For the broth
This recipe is for 3lbs manila clams (purged)
½ cup sweet sherry
1 cup clear chicken stock
½ Tablespoon fresh chopped garlic
1 Tablespoon chopped shallots
½ Tablespoon chopped Calabrian chili peppers
4 Tablespoons butter (divided)
1 teaspoon dried oregano
1 sprig fresh oregano
6 slices fresh baguette
1 Tablespoon extra virgin olive oil for bread
Kosher salt to taste
In a large sauce pan add 2 tablespoons of butter and allow it to melt. Once butter has melted add garlic, shallots, chili peppers, dried oregano, mix all to combine making sure not to damage shells. Once the clams begin to "hiss and pop" add the sherry, chicken stock and cover. Add the remaining butter and simmer on medium heat for 3-5 minutes. While clams are simmering, place your sliced bread on a cookie sheet and drizzle with the olive oil. Place into 350 degree oven and cook until desired color is achieved. Clams will be fully open when done. Pour into large serving bowl and serve family style, garnish with fresh whole leaves of oregano.
Learn more about Food Lifeline. Part of being a local Seattle seafood restaurant is giving back to our community through charitable events and responsible stewardship. You can learn the latest about regional events and Ray's presence in the community by following our blog or signing up for our newsletter at the bottom of this page.