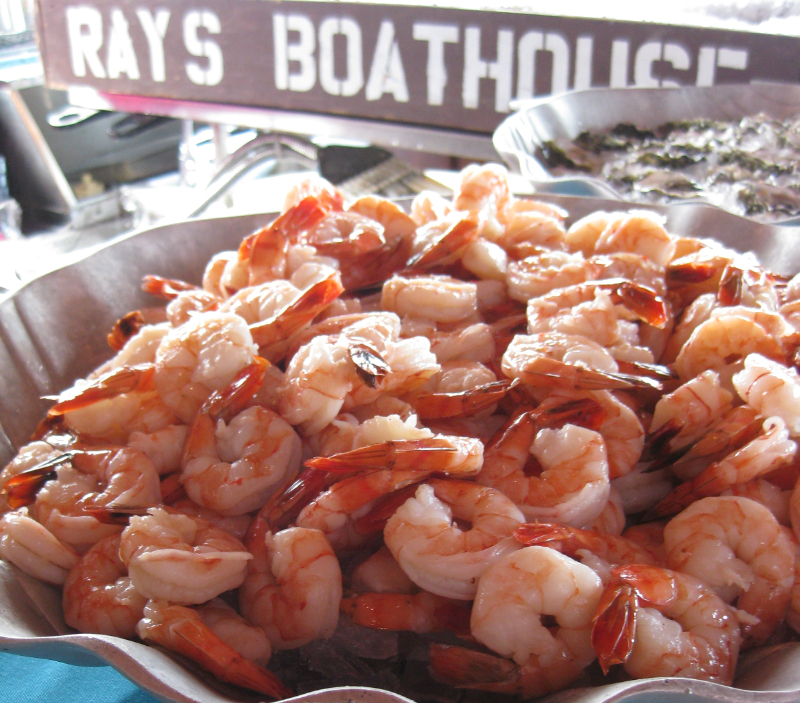 Are you a shellfish fanatic? Join us in the Café to celebrate the bounty of the Pacific Northwest for a two-week celebration January 19-31 of what Ray's does best! Chef de Cuisine Paul Duncan presents "Shell-Fest 2015"with a dozen of your favorite shellfish dishes:
Full Pound Steamed Manila Clams – Pork belly, vermouth, butter, chives 7/14
Penn Cove Mussels Marinara – Fresh basil, angel hair pasta 7/14
Sautéed Blackened Shrimp – Onion, Bourbon, butter, garlic bread 15
Rock Shrimp Tacos – Crispy fried rock shrimp, Pico de gallo, chipotle-sour cream, shredded romaine lettuce, tortilla chips, salsa 14
Chilled Peel & Eat Prawns – Lemon-spice poached, Louis dressing 15
Popcorn Shrimp – Lightly breaded, fried golden brown, tartar sauce, cocktail sauce 14
Dungeness Crab Bisque – Sweet corn, creamy veloute 6/9
Washington Razor Clams – Pan fried, panko crusted, saffron-shallot jam, jalapeno tartar 13
Baked Half Shell Oysters – Half dozen with Uli's Andouille sausage, leeks, smoked paprika-butter 15
Steamed Half Pound Snow Crab Legs – Drawn butter, fried potatoes 18
Prawn Cocktail – Classic cocktail sauce, lemon 14
Drunken Oyster Shooters 5 each
Vodka, horseradish, tabasco, lemon juice
Tequila, lime + orange juices, sriracha
Gin, cucumber, lime, mint
Pair these delicacies with daily cocktail and wine specials to create the perfect shellfish lovers meal!
Shellfest Wine Pairings
Rosé of the Day 7.5 gls –  Broadbent Vinho Verde Rose  Vinho Verde, Portugal
Va Piano Bruno's 30 btl – Sauvignon Blanc  Columbia Valley, WA 2012
Maison Jadot 32 btl – Chardonnay  Mâcon-Villages, FRA 2012
Shellfest Signature Cocktails
Vesper Martini 12 – Gin + vodka, Lillet Blanc, lemon twist
Signature Bloody Mary 10 – House infused garlic vodka, Dimitris Bloody mix, grilled and chilled prawn kebob garnish
Northwesterner Cocktail 13 – Absolute Citron Vodka, smokey clamato juice, fresh herbs + spices, smoked clam stuffed olive garnish
Make reservations at this link!