by Douglas Zellers, General Manager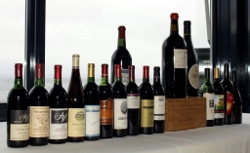 Washington Wine month is upon us again, spring is in the air, and we find ourselves preparing for another great Taste Washington event! As we go about our planning, we focus on the multitude of wines that Washington offers us, and we frequently find ourselves looking for the next great winery, vintage, or bottling. To truly understand the level of where Washington wine has risen to, I feel it important to take a look at how we got here.
Ray's Boathouse was host to the annual "Rays Retrospective" where we would host a dinner showcasing the greatest wines of last release. It was a retrospective on the year. But what about a retrospective on the entire Washington wine timeline?  What are the pivotal moments, people, and events that helped bring Washington wine forward to the place in history that we hold so dearly?
On February 24, I invited a few industry professionals, sommeliers, and private wine collectors to taste through 20 wines that represented the earlier years in the state's history. During this tasting we discussed our thoughts on the pivotal moments and I wanted to share a few with you.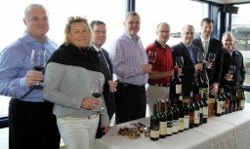 1960's Bob Bertheau, Head Winemaker for Chateau Ste. Michelle, asks us to remember founding pioneers such as Walter Clore and great ground work was laid down. Bob Betz, Master of Wine, reminded me of the visionary work done by André Tchelistcheff, a storied winemaker that would be our early guiding hand.  During this decade some of our first wineries (Associated Vintners and Chateau Ste. Michelle) produced our first vintage wines.
1970's Washington wine is in the national limelight when the 1972 Johannisburg Riesling is tops in the Riesling blind tasting at the 1974 LA Times Annual Wine Competition, beating all national and international competitors.  Chris Figgins is proud to remind us of the importance that family wineries played in Washington State such as Leonetti Cellar and Quilceda Creek. These wineries come on line in the 70's, closely followed by Woodward Canyon in 1980. The great work of the Figgins, Small, and Golitzen families continue to be leaders in the State as their wines garner great acclaim.
1980's Doug Gore launches Columbia Crest Winery and Mike Sauer plants Syrah at Red Willow Vineyard under the initiative of David Lake. Yakima Valley becomes the first AVA in Washington State and both Columbia Valley and Walla Walla earning recognition in 1984. In 1987 we see the Washington Wine Commission established, further unifying the industry and reaching out to the public, generating interest and hosting events.
1990's The beginning of the global connection ushered in by Allen Shoup and Chateau Ste. Michelle partnering with Italy's Marchesi Antinori to produce Col Solare.  Kris Patten, Vice President of Wine  for Young's Market Company reminded me how the partnership between Chateau Ste. Michelle and Germany's Ernest Loosen bought Riesling from sweet to complex, forever changing the perception of the varietal here in the state.
2000's Quilceda Creek earns the first 100 point wine (Robert Parker) in Washington with their 2002 Cabernet Sauvignon. They will go on to earn this distinction three more times with the 2003, 2005 and 2007 vintages. In 2009, the 2005 Columbia Crest Grand Reserve Cab earns the #1 Wine of the Year and the cover spot on the Wine Spectator.  In 2003 Allen Shoup continues his legacy by furthering the global connection and establishing Long Shadows Wineries and Vineyards.
2010's I leave up it to you. What do you think will be the defining moment of this decade? What dynamic moment will further propel Washington wine to the forefront of the global wine scene?  I welcome your thoughts in the comments section below.
While I can't possibly list all of the things we discussed, I thought these are some of the ones that we should think about as we look forward. To truly understand your future, you must know your past.  I urge us each to seek out an older bottle of Washington wine and take a trip back in time. Re-explore some of the tried and true brands such as Chateau Ste. Michelle and Columbia Winery. Raise a glass to the people and families that helped provide this opportunity for us.  Seek out the exciting new wineries and help drive Washington forward.
In vino veritas!
Note: This article first appeared in Seattle Dining
Doug Zellers is the General Manager of Rays Boathouse, Cafe & Catering. He received the Walter Clore Honorarium from the Washington Wine Commission for his dedication to the advancement of the Washington wine industry, and serves as Chef du Sommelier for the Auction of Washington Wines.
Did you know? Ray's also offers event catering in Seattle, off-site and right next to our restaurant in Ballard, for special events, ceremonies, wedding receptions and more. Enjoy a spectacular front row view of Puget Sound and the Olympic Mountains!