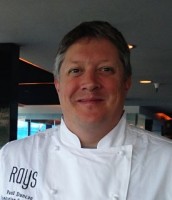 Ray's Chef de Cuisine Paul Duncan will be featured at two exciting local events this summer, so please be sure to come say hello if you are at either event!
Celebrate Bastille Day at DeLille Cellars Chateau Sunday July 13 at One if by Land, Two (three and four) if by Sea, DeLille's 20th annual celebration honoring Bastille Day. Chef Paul is one of four stellar chefs who will create a petite entree to showcase DeLille's 2013 Chaleur Estate Blanc, and he  will be preparing the Smoked Sablefish entree from our Boathouse menu. Chef Warren Cordoba from Six Seven, Steve Cain from Aqua by El Gaucho, and Pat Donahue of Anthony's Homeport.
Chef Paul will also cook at the 27th annual Auction of Washington Wine's grand finale, the Wine Gala. This prestigious event takes place Saturday August 16 under the stars at Chateau Ste. Michelle. The auction features one-of-a-kind collectible wine lots and trips to destinations around the world in addition to a delicious six-course dinner paired with exquisite wines. Chef Paul will be presenting one of Ray's classic entrees for the seafood course, Sablefish in Sake Kasu (black cod marinated in sake kasu, grilled and finished with gingered bok choy, heirloom cherry tomatoes, and miso glaze).