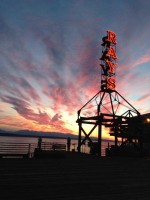 The days are getting shorter, but the dining is getting even better! To help you make the most of our magnificent fall evenings featuring glorious sunsets, we are launching our new Sunset Suppers in the Boathouse!
Dine with us during the first hour of dining room service (5-6pm) for a wonderful three course meal for $35 (does not include beverage, tax, or gratuity).  This is an excellent way to celebrate the end of summer and kickoff the fall season with a great early evening meal at Ray's, starring those sensational Seattle sunsets. Reservations are available at this link.
Sunset Supper in the Boathouse
3 course dinners – $35
Available between 5 and 6pm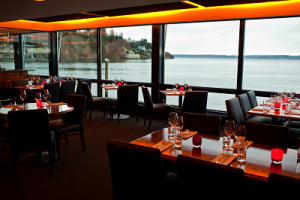 Starter (choose one)
Yukon Gold Potato-Leek Soup (gf) – with house smoked salmon, fresh herbs
Autumn Greens Salad (gf) – with swiss chard, black kale, pear, walnuts, green apple vinaigrette
Entreé (choose one)
Chanterelle Mushroom Linguine – with house made pasta, Olympic Peninsula mushrooms, sweet corn, baby arugula
Butter Poached Oregon Albacore Tuna* (gf) – with fennel, artichoke hearts, lemon-caper sauce
Sautéed Pork Loin(gf) – with cipollini onions, pear, garlic mashed potatoes, balsamic pan jus
Dessert (choose one)
Chocolate Crème Brûlée(gf) – with whipped cream
House Made Apple Pie – with whipped cream
Olympic Mountain Sorbet (gf) or Ice Cream – seasonal flavor
 Items marked with GF are gluten friendly. Additional menu items may be able to be modified to be gluten friendly, 
*Consuming raw or undercooked seafood or meats may increase your risk of foodborne illness.