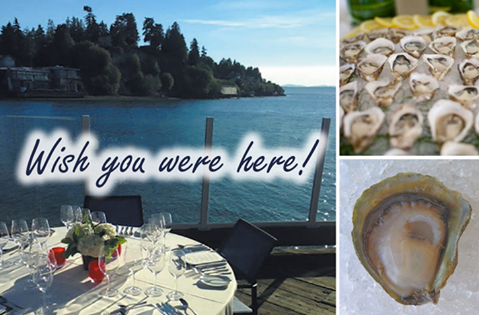 Feb 10-14 while they last, savor your chance to taste a rare Northwest treasure: the Olympia oyster!
The Olympia oyster (Ostrea lurida) is one of the rarest, most treasured of our Pacific Northwest native species. James Beard, champion of American cuisine, called the petite Olympia "the most distinguished of the oysters" for its distinctive sweet taste and coppery finish.
Ray's, in conjunction with Seattle oyster enthusiast and historian Jon Rowley, first introduced this treasured oyster to the restaurant world in 1983.
"Up to that point," Rowley recalled, "Olympias had only been available in jars, if you could find them at all. Then Clam Cove Oyster Company brought us some live ones. I sent out a letter to the people who worked in the food press, and we served nothing else that night — just Olympia oysters and Schramsberg sparkling wine. It was one of the best parties I've ever been to."
After two near-brushes with extinction (first from over-harvesting in the gold rush era, then in the 1920s and 30s threatened by pulp mill pollution), the Olympia oyster, which takes five years to reach maturity, is available in limited supply thanks to careful cultivation and sustainable harvesting!
Take advantage of a six-pack of shucked Olympia oysters from Taylor Shellfish with a glass of Schramsberg sparkling wine for $29. Make it a memorable Valentine's weekend, or just try it because it's not something you'll find here every day! See you soon!