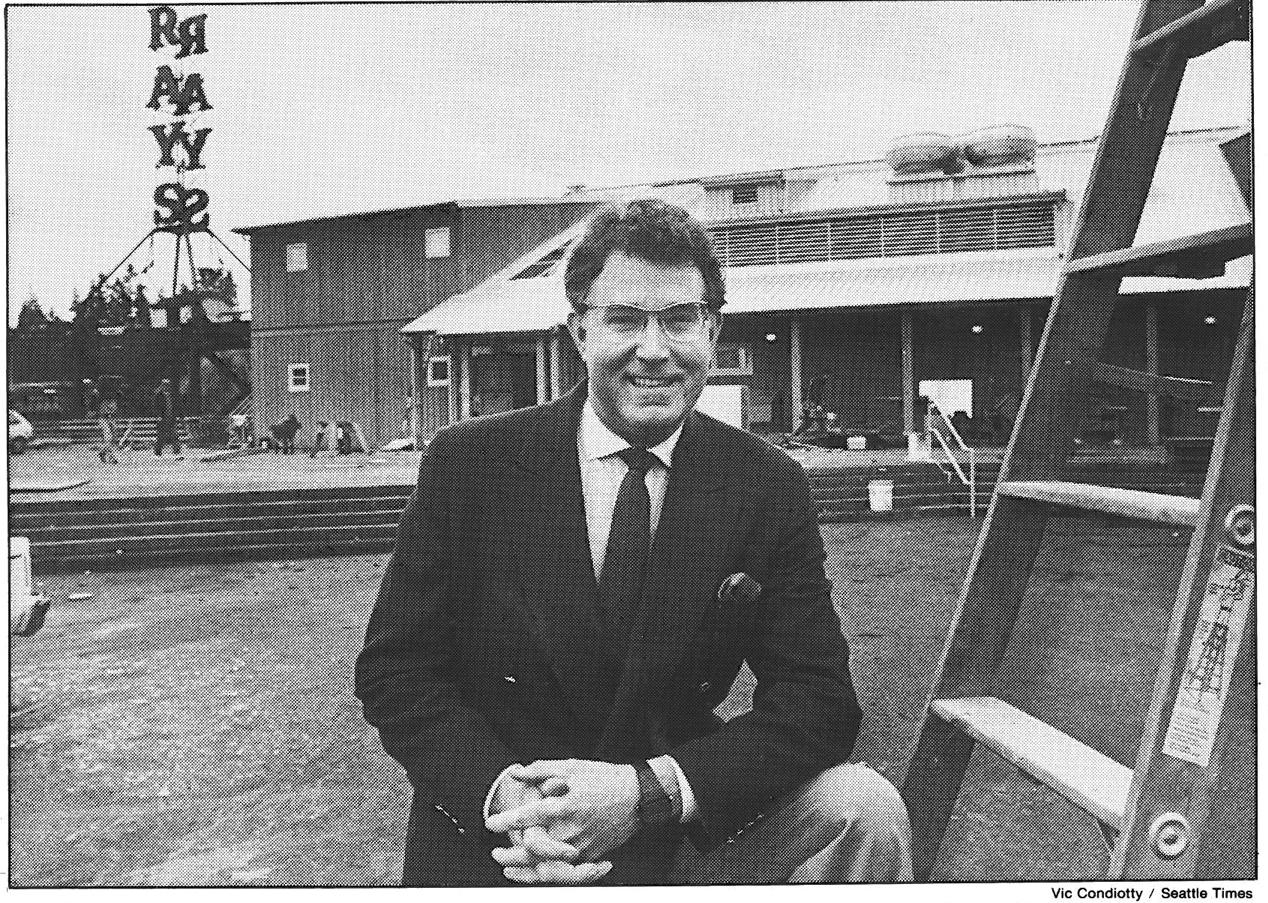 Ray's started with the small kernel of an idea that salmon and other fish could be broiled just like a steak on a beach bonfire grill, after reeling it into the boat from a good day of fishing. Then came halibut, lingcod, sable fish, oysters, mussels and clams. Excellent seafood that could be cooked in a way that made the true flavor of the food shine. Simple, good ingredients, cooked with herbs and salt and pepper…
But lets back up to how this simple idea mixed with the right people at the right time, altered the way Seattleites and the Northwest not only dined, but approached food.
Growing up on a small apple farm in the Wenatchee Valley, there was nothing but fresh seasonal food to enjoy, and fishing salmon and trout in the Wenatchee River with friends was my reward for chores and hard work on the ranch. Catching and eating fresh fish, as well as harvesting fruits and vegetables was a highlight of my youth, and this way of eating was forever engrained in me.
In the mid 1960s I spent a summer in Southeast Alaska as a cook and crewmember of a purse seiner, learning the ropes in the kitchen and furthering my knowledge about fishing. The money I earned allowed me to spend a quarter at the University of Washington where I met an exchange student from Austria whose older brother was managing a boutique hotel in Jackson Hole, Wyoming. So, off I went on a grand adventure that was to last three years in Jackson Hole, where I tutored under a European trained chef for a period of time.
It was here I discovered that I really enjoyed cooking and restaurants. This led me to Sun Valley, Idaho where I managed a steak and salad concept for two years before getting transferred to Seattle to manage a different restaurant within the company.
One day in Seattle, I was picking up supplies at Bargreen Restaurant Supply (now Bargreen Ellingston) I asked Sam Bargreen about good restaurant locations in the city and he suggested Ray's Boathouse, "it's a little out of town but a really good location".
I took his advice, went out to Ray's and was instantly inspired to make the concept of simply prepared, fresh local seafood a reality. From a partnership involving myself, Earl Lasher and Duke Moscrip, Ray's Boathouse & Café as it is today was born.
The idea was to do as much as possible with a few really good ingredients. Ray's started assembling cooks that had passion and ideas to do different things, to innovate. We reeled in great ideas from everyone that offered innovation. Ray's then filtered these ideas through our identity, standards of quality and concept to ensure that we stayed on course.
We had a wholesale fish buyer's license very early and bought fish right off the boats that fished in Puget Sound in front of the restaurant.
In order to get really good fish Wayne Ludvigson and I put out the word that we would pay cash if fisherman would bring us the best quality fish. That started fishermen as well as gatherers coming to our back door with the best they had. We didn't overcook. We served our seafood with steamed fresh vegies, crisp salads and fluffy rice/grain mixtures, and the rest is history.
The dynamism of the Seattle market has challenged our industry to be innovative. Over the nearly 45 years that Ray's has been reeling in ideas much has changed and much has remained the same. When I started cooking 50 years ago cooks were the "low man on the totem pole" today chefs are the stars.
What makes a great restaurant and a great chef is longevity. This requires balance between cooking skills, people skills, business skills and innovation. These skills combined create success, and success allows longevity.
Of course longevity doesn't exist without our guests. We have the most incredible, loyal guests. They have praised us, challenged us, pushed us to innovate further, humbled us, and inspired us to never stop improving.
Hospitality has always been a driving force at Ray's. My mother's family was from England and manners and hospitality was very important in our household growing up. Besides an excellent seafood restaurant, I wanted all of our guests to leave Ray's feeling as if they'd just left a family meal, full of warmth, great food and wine, and a level of care they'd not experienced in a restaurant before.
Over the last 44 years we have reeled in excellent teammates that added to the success of Ray's then graduated to own their own restaurants, wineries, and other businesses. We are always evolving as a company and currently we are doing so both physically and philosophically. We have younger partners in our new co-owners Douglas Zellers and Tom Olsson who partner well with Executive Chef Paul Duncan to bring new energy, innovation, seek out excellent new team members, all while staying true to our roots of simply prepared local seafood.
The future at Ray's is brimming with excitement for what the next 45 years will bring… who will be the next fisherman we discover with new improved sustainable practices, what wines will our team reel in that creates an incredible new pairing, who will cook in our kitchens and blow us all away with their talent… we don't know yet but we hope you'll be along for the ride!
See you soon,
Russ Wohlers, Ray's Founding Partner