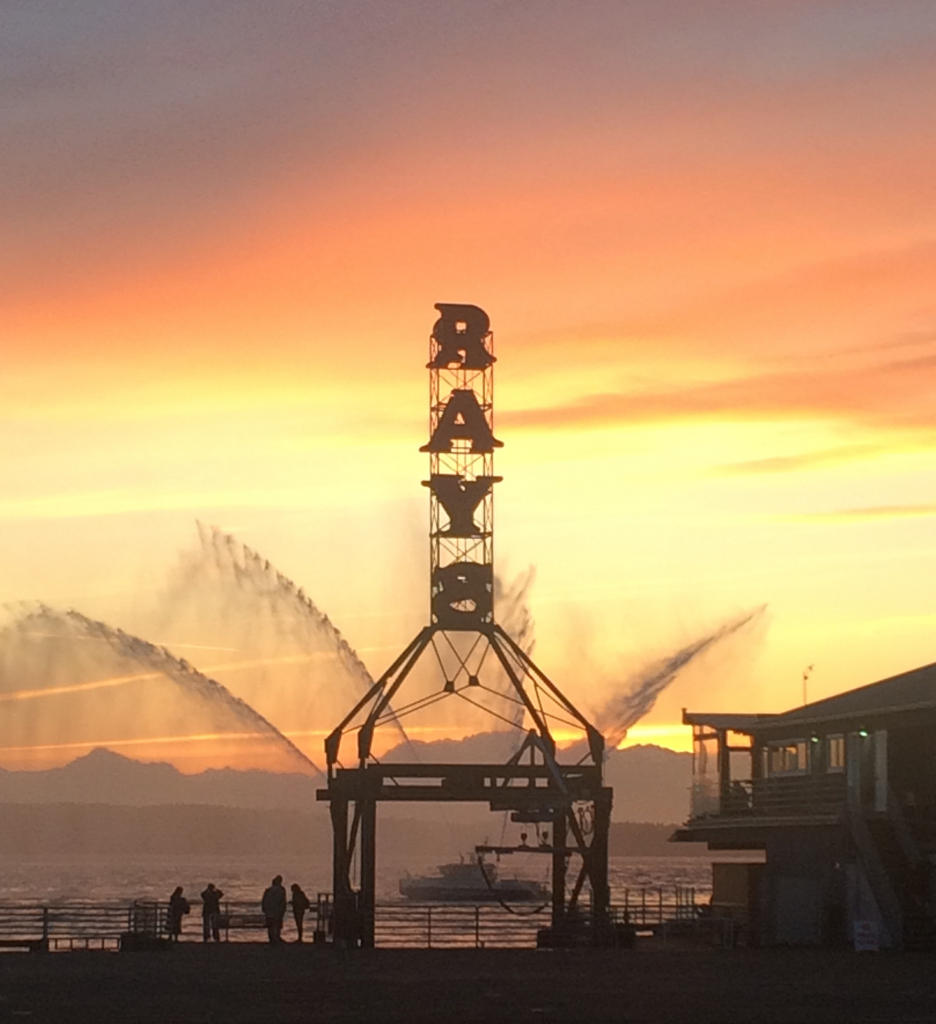 This November, as we look forward to 2018 and turning 45, we want to pause for a moment to celebrate the past, present and future of Ray's, with you our beloved guests.
From November 1-21 enjoy three weeks of special menus that throwback to memorable moments and eras in our history. It will conclude with the drawing of a very special prize… Dinner for a Year at Ray's for one lucky guest!
But first we want to hear from you!
Help us create a special 3-course menu of your favorite Ray's dishes during the final week. Describe for us your most memorable Ray's appetizer, entrée and dessert dishes from a recent experience (one in each category) or get out your copy of Ray's cookbook, "Seafood Secrets of the Pacific Northwest" and tell us which appetizer, entrée and dessert is your favorite by Friday, November 3 at 11:59pm. Then our Executive Chef Paul Duncan will recreate a 3-course menu made up of the top item in each category, available in the Café and Boathouse Wednesday, November 15-Tuesday, November 21.
Tell us your top choices on Facebook, Instagram or Twitter, email us at rays@rays.com, or fill out a quick online poll. Don't have a cookbook? Don't worry we have some gently used copies available for purchase at the Café.
How to Win Dinner for a Year at Ray's:
Starting Wednesday, November 1, 2017 and ending at dinner service on Tuesday, November 21, 2017 each time you dine at the Café or our first floor Boathouse and use your Loyalty Card you will be automatically entered to win dinner for a year at Ray's Café and Boathouse.
The more times you dine the more chances you have to win.
On Wednesday, November 22 we will put all of the entries into a drawing and choose a winner at random.
Don't have a Loyalty Card sign up here and start entering to win today!
Each week we will feature a different multi-course menu with nods to our past, try all of them and get entered to win each time!
Here's what's in store:
November 1-7: Guest Chef, Ray's Founding Partner Russ Wohlers
The man who put Ray's on the map with his simple approach to cooking the best local seafood, is back in the kitchen cooking up some of his favorite original Ray's recipes:
Appetizer: Teriyaki Salmon
Entrée: Grilled Ling Cod with Black Lentil-Chanterelle Ragout
Dessert: Mum Mum's Apple Pie
November 8-14: James Beard House Dinner
In 1992 Ray's cooked a very special dinner at the James Beard House in New York City. For this week only, we are recreating that dinner in the Café and Boathouse for you to enjoy in full or choose courses a la carte:
Appetizer: Ray's Dungeness Crab Cakes with Roasted Red Pepper-Lemon Aioli
Appetizer: Assorted Northwest Oysters on the Half Shell with Champagne Mignonette
Entrée: Chatham Straits Black Cod in Sake Kasu with Sesame-Rice Cake and Wasabi-Ginger Emulsion
Entrée: Crisp Butter Lettuce with Raspberry-Thyme Vinaigrette and Vanilla-Scented Alaskan Spot Prawns
Dessert: Scharffen Berger Chocolate Indulgence with Chambord Sabayon
November 15-21: You Choose the Menu!
Experience your favorite Ray's recipes in a 3-course menu that you, our guests created!
We will be tallying up votes from your emails, social media comments and our online poll, to determine which appetizers, entrées and dessert to serve. The top item with the most votes for appetizer, entrée, and dessert will make up the menu. We will announce this guest favorite menu via social media before it begins.
Good luck to all, and we look forward to seeing you soon!
Official "Dinner for a Year at Ray's" Contest Rules
How to Enter
Use your Ray's Loyalty Card each time you dine from November 1- 21, 2017 and be entered to win dinner for a year at Ray's. Each time you use your Loyalty Card your name will be entered in to the drawing to win dinner for a year at Ray's, good in the Café and Boathouse.
Must have a Loyalty Card with a valid phone number to enter. Sign up here or at Ray's Café or Boathouse.
One entry per day per venue (Café and Boathouse) will be counted towards the contest.
No minimum purchase amount is necessary to participate.
Prize
One winner will be drawn at random on Wednesday, November 22 to win Dinner for a Year at Ray's, valid through November 30, 2018. We will announce the winner via Facebook, Twitter and Instagram and contact them via phone.
Fine Print
Winner will be selected at random.
Entries are limited to one per day per venue (Café and Boathouse). You will be entered each time you dine during this period and use your Ray's Loyalty Card.
Start date: Wednesday, November 1, 2017 at 11:30 a.m. P.S.T.; entries made prior to this will not be valid.
End date: Tuesday, November 21, 2017 at 11:59 p.m. P.S.T.; entries made after this date will not be valid.
Winner must claim prize within 48 hours of being contacted by Ray's via social media, email and/or phone. Or we will draw again.
Employees of Ray Boathouse, Inc. and their immediate families are not eligible to participate.
Entrants must be at least 18 years of age.
By claiming a prize, the winners consent to Ray's use of their names and image/likeness including photography and video in future Ray's marketing and advertising without compensation or further approval. Further, by accepting a prize, the winner agrees not to assert any claims and to release Ray's, from any and all liabilities, injuries or damages sustained in connection with the award or use of the prize.
Winners are solely responsible for reporting winnings and paying all applicable taxes.
The odds of winning will be one out of the total number of eligible responses submitted.
Grand Prize:

$2,600 gift card to use toward "Dinner for a Year at Ray's." Valid in the Café and Boathouse through November 30, 2018. Equates to $50 per week for 52 weeks.
Cannot be used on Ray's merchandise or in combination with any other offer. 

Menu items subject to change based on availability.
General Conditions
Void where prohibited / restricted by law.
All federal, state and local laws apply.
Paying and reporting taxes (if any) are the winner's sole responsibility.
Prizes may not be substituted, transferred, redeemed or exchanged for cash, except at the sole discretion of Ray's.
Ray's is not responsible for illegible, damaged, lost, late or misdirected entries.
All submissions become property of Ray's.
Ray's reserves the right to refuse all prizes to any client who in their sole determination abuses their right to participate or violates the rules.
Should the winning submission be determined to be untrue or false in any way, the winner must be responsible for any and all real costs associated with grand prize or another winner may be picked at the discretion of Ray's management.
All conditions, rules, and regulations of Ray's Loyalty Card program apply.
These are the official contest rules of the "Dinner for a Year at Ray's" contest. These rules may be subject to change without notice.