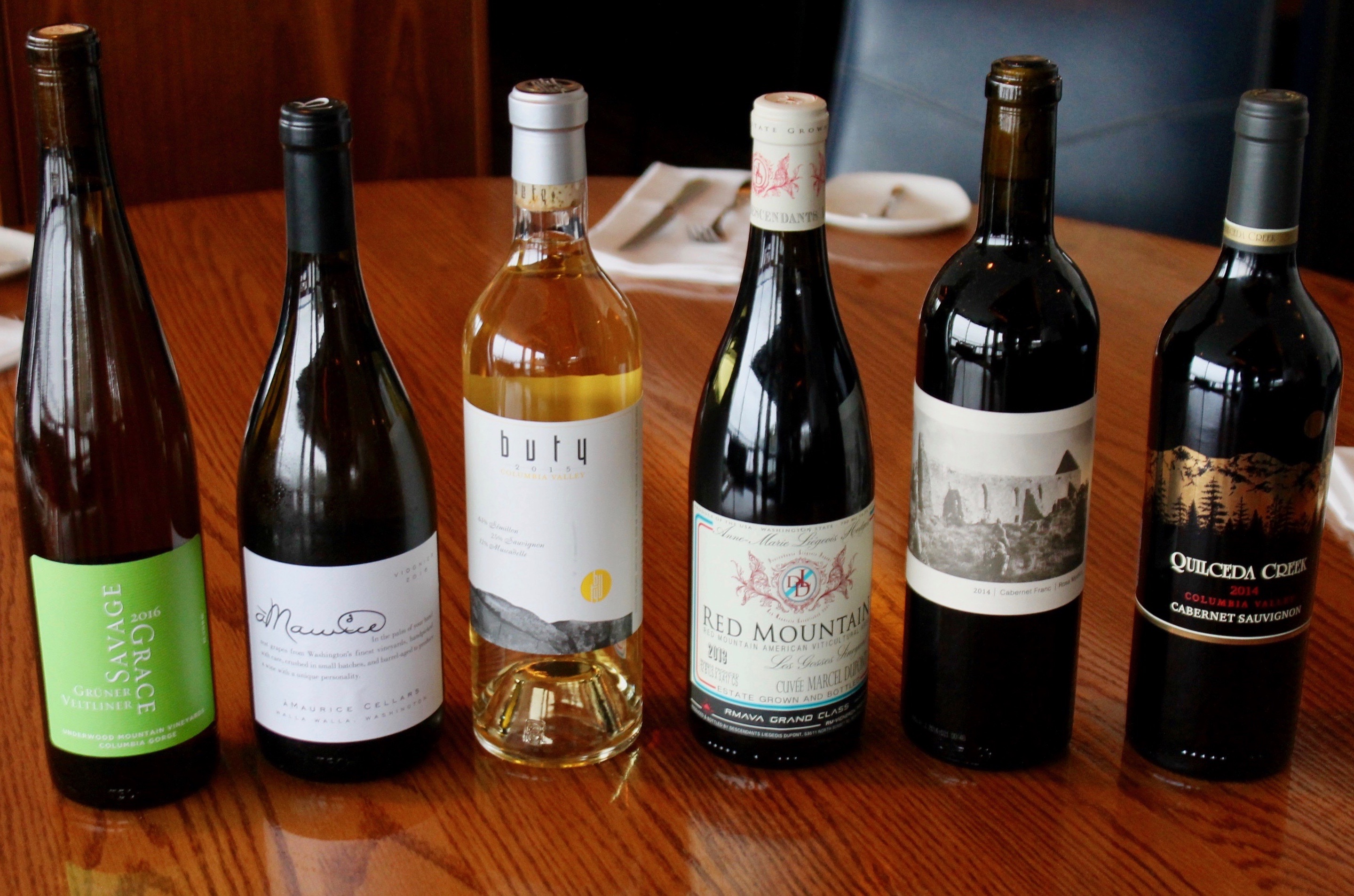 Since the early days of Washington wine, Ray's has been a proud champion of local winemakers and wineries. In 1982 we were one of two restaurants to receive and sell Leonetti Cellars' wine with the release of its 1979 Cabernet Sauvignon… what an incredible and robust journey our local wine industry has had since then!
This March we invite you to join us for Taste Washington Wine Month, celebrating the beautiful wines, talented winemakers, and rich, diverse landscape of Washington wine country. From Thursday, March 1 through Saturday, March 31, we will be offering a curated selection of Washington wines from our Wine Director Chip Croteau in the Boathouse and Café.
The Boathouse will be serving six unique and delicious Washington wines by the glass and bottle to enjoy alongside the best view in Seattle, from 5-9pm daily.
Boathouse Taste Washington Wine Month Menu
àMaurice Viognier Columbia Valley, WA 2016 – $16 / $54
The viognier grape is often used for blending in France but has become one of Washington's greatest white varietals.  Expressive aromas of peach flesh and orchard fruits lead towards kiwi, quince preserve and lemon. A stunner!
Buty Sémillon/Sauvignon Blanc/Muscadelle Columbia Valley, WA 2015 – $15 / $53
A top Washington white blend every year, Nina Buty's fresh and bright white Bordeaux inspired blend features sémillon, providing eloquent floral tones and textural richness while the sauvignon and muscadelle lend layers of jasmine, grapefruit and lime.
Savage Grace Grüner Veltliner Underwood Mountain Vineyards, Columbia Gorge, WA – $15 / $53
The classic Austrian white grape finds a lovely single vineyard expression with light aromas of white pepper, lime and herb capped off by hints of honey and wet stone in the acid laced finish.
Hedges Syrah 'DLD' Cuvée Marcel Dupont, Red Mountain, WA 2013 – $15 / $55
Dedicated to Anne-Marie Hedges grandfather, Marcel Dupont, this cuvée displays the greatest qualities of low yield farming and the hallmarks of Red Mountain syrah: earthy minerality, rich dark fruits, dried spices, cocoa, leather and smoke.
Owen Roe Cabernet Franc 'Rosa Mystica' Yakima Valley, WA 2014 – $18 / $65
David O'Reilly's 'Rosa Mystica' begins with aromatics of ripe red cherries, red bell pepper and sage. This leads to flavors of rose petals, red cherry, sagebrush, red raspberry with hints of blood orange. This is a polished and complex wine.
Quilceda Creek Cabernet Sauvignon Columbia Valley, WA 2014 – 3oz $35 / 6oz $70 / bottle $265
A tour de force reminiscent of a first growth Bordeaux, this 100-point wine offers incredible notes of black currants, graphite, lead pencil shavings and crushed rocks in a full-bodied, decadent, insanely layered and seamless style. Ultra-fine tannin, no hard edges and a forward, already hard to resist style.
The Café will be serving select Washington wines by the bottle daily from 11:30am-9pm, including:
àMaurice Viognier Columbia Valley, WA 2016
Buty Sémillon/Sauvignon Blanc/Muscadelle Columbia Valley, WA 2015
Hedges Syrah 'DLD' Cuvée Marcel Dupont, Red Mountain, WA 2013
Reserve in the Café at 206.782.0094 or online; and in the Boathouse at 206.789.3770 or online.