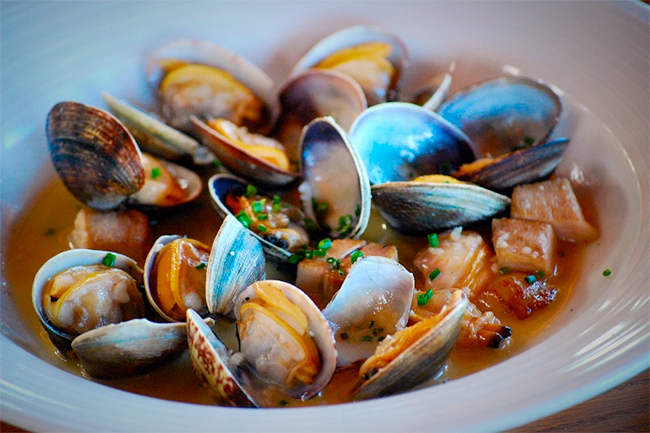 It's almost time to Shell-ebrate with Shellfest returning to Ray's Boathouse and Cafe, January 9 – 22! Chilly winter waters are perfect for harvesting pristine shellfish and you're to partake at Ray's in the form of specially prepared shrimp, crab, oyster dishes and much more. Prices start at just $6.
Sample Offerings (each sold separately; selections and menu items may change as we try new and exciting recipes):
-Full Pound Steamed Manila Clams with pork belly, vermouth, butter, chives
-Penn Cove Mussels Marinara with fresh basil, and angel hair pasta
-Sautéed Blackened Shrimp with onion, bourbon, butter, garlic bread
-Crispy Fried Rock Shrimp Tacos with pico de gallo, chipotle-sour cream, shredded romaine lettuce, tortilla chips, salsa
-Chilled Peel & Eat Prawns with lemon-spice poached, Louis dressing
-Half Pound Popcorn Shrimp, lightly breaded, fried golden brown, served with tartar sauce, cocktail sauce
-Dungeness Crab Bisque with sweet corn, creamy veloute
-Pan-fried, panko crusted Washington Razor Clams with saffron-shallot jam and jalapeno tartar
-Baked Half Shell Oysters, a half-dozen with Uli's Andouille sausage, leeks, and smoked paprika-butter
-Steamed Half Pound Snow Crab Legs with drawn butter and fried potatoes
-Prawn Cocktail with classic cocktail sauce and lemon
We also offer delicious wine and cocktail suggestions for each dish. Boathouse reservations can be made at 206.789.3770 or here. Cafe reservations can be made at 206.782.0094 or here. We'll see you soon!