Welcome to Fall at Ray's!
As the seasons start to change, we find ourselves at Ray's looking for wines and flavors that capture this unique time of year. And nothing encapsulates the change of season quite like pinot noir. The bright fruit flavors and acidity of pinot noir pair perfectly with a variety of seafood, but one of the most ideal is wild, fresh salmon.
We have the privilege here at Ray's to be in such close proximity to one of the greatest pinot noir regions, the Willamette Valley, just four hours south.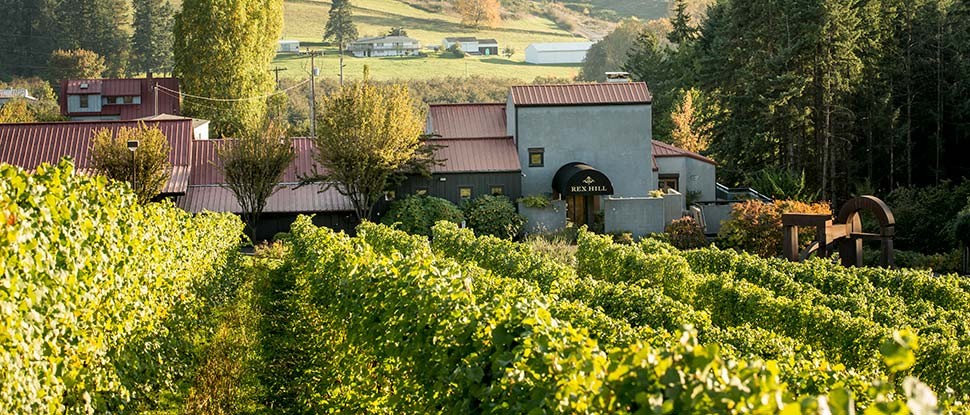 Courtesy of Rex Hill Winery
This September we will be showcasing a variety of pinot noir wines from the Willamette Valley in both the first floor Boathouse and upstairs Cafe. We recently had the opportunity to visit with Rex Hill Winery and A to Z Wineworks and discover how these beautifully crafted wines are created. First off, the teams at both wineries really took care of us, our wine glasses were certainly never empty. But, seeing the joy and dedication that the Willamette Valley wine community has to perfect each an every bottle of wine was truly humbling.
The care that they have for their land and the product that's sourced from it, reminded us of how we at Ray's are committed to always sourcing the freshest fish and using local seasonal ingredients to create flavorful and inventive dishes for all of our guests to enjoy.

So, this fall take advantage of all of the beautiful local offerings that the Pacific Northwest has to offer. Come into Ray's Boathouse or Cafe to try a variety of our featured pinot noirs by the glass or bottle with your next meal. And if you're not quite sure which one of these delectable wines to partake in, have one of our sommeliers help you find your next favorite pinot!
Make your reservations today! For the Boathouse call 206.789.3770 or click here. For the Cafe call 206.782.0094 or click here.
Cheers!
Chip Croteau, Boathouse Manager & Wine Director