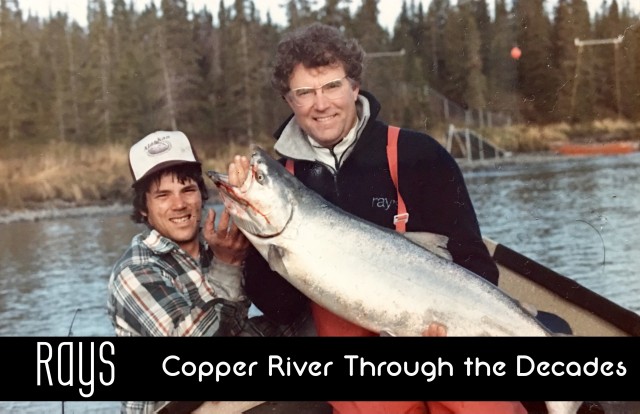 Copper River salmon season kicks-off today at Ray's! This year we're celebrating 35 years of serving this coveted seasonal fish at Ray's with a look at 'Copper River Through the Decades'!
Copper River salmon has had a long history at Ray's. Starting in 1983 we were one of the first restaurants in Seattle (as well as the lower 48 states) to serve Copper River salmon to our guests! Continuing into the 90s we partnered with Alaska Airlines on its "First Fish" cook off events, and celebrated each season with Copper River salmon and Oregon Pinot Noir pairings. Today we work directly with local Alaska fisherman and families to bring you the very first of the season, from the icy waters of the mighty Copper River.
This year we reunited with Alaska Airlines for its privately held, annual "Copper Chef Cook-off"! In true Copper River fashion, the fish was flown straight from its home in Cordova, Alaska to Sea-Tac International Airport. Upon arrival, Executive Chef Paul Duncan and two other local chefs had 30 minutes to prepare and serve their salmon creations to a table of judges. Though we did not come in first, we had an incredible time being there to receive the first fish of the season and cook up a gorgeous crispy skinned salmon with a Washington asparagus salad!
As we continue to celebrate this beloved fish, we also want to take the time to reflect on their strength and agility, as well as the robust Copper River. A few things to note:
Copper River is 290 miles long and is the tenth largest river in the U.S.
Copper River salmon builds muscle and fat just to run the rugged river. This is the reason for their juicy, fatty goodness.
Besides Copper River salmon, you'll see bald eagles, sea lions and bears along the river; all coming to life after their long hibernation.
We look forward to showcasing Copper River salmon through the decades with you! Follow along the next few weeks on our Facebook, Instagram and Twitter for fun photos and facts.
Make your reservations for the Café at 206.782.0094 or online; or in the Boathouse at 206.789.3770 or online to enjoy fresh Copper River salmon starting today!